ince 2012 I have been mixing it up and creating natural homemade products for my hair and skin. Many of my DIY beauty recipes are Ayurveda inspired. 
Ayurveda hair care consists of seeds, oils, herbs, flowers, and other naturally derived plant-based ingredients. The practice of Ayurveda began thousands of years ago around the region of ancient India. 
Both time and generations of gorgeous hair have proven the benefits of this practice in hair care routines. Since plant-based ingredients have such great medicinal properties, Ayurveda beauty practices can work for every hair type. 
The key ingredients in this strengthening hair tea are common in the world of Ayurveda hair care. Fenugreek, also known as Methi, benefits the hair and scalp in many ways. It can prevent excessive hair shedding and stimulate hair growth. Fenugreek contains iron, Vitamin C, and protein. It can be applied to the hair and scalp in various forms. 
You can infuse the seeds in an oil or make a paste out of fenugreek powder. However, for this recipe, we will steep the seeds to infuse all of that vitamin and protein goodness into a tea.
Dried hibiscus flowers will add additional hair growth benefits to the tea. Hibiscus flowers help to strengthen the hair and also heals the scalp. A healthy scalp creates a healthy environment for healthy hair growth. And isn't that what we really want? 
However, even long hair hair doesn't mean much if your hair is not healthy. Without health, we experience split ends, breakage, and the overall look of our favorite styles are compromised. 
A nourishing hair tea would be complete with just these two amazing ingredients. However, I have two more natural ingredients that I love to add once the tea has cooled.
The final ingredients are aloe vera juice and lavender essential oil. Essential oils are wildly popular these days. I even saw a selection of essential oils at my local Big Lots, which is a deep discount retail store. 
Before purchasing essential oils, do your research to make sure you are buying from a trusted source. Not all brands of essential oils have the same quality. 
Lavender is a personal favorite because it also adds aromatherapy benefits. The scent of lavender is calming and helps to relieve anxiety. And as if we don't have enough hair growth properties in our tea already, lavender also helps to stimulate growth. 
Lavender has antimicrobial properties which can prevent the nightmare of an itchy scalp and dandruff. Lavender can be replaced with other essential oils like rosemary, frankincense, or peppermint. They offer similar properties.
Aloe Vera helps to stimulate hair growth and is a natural hair conditioner. It can add shine to the hair and help to control frizz!
Now that we covered a general benefits list for all of our ingredients, let's make hair tea!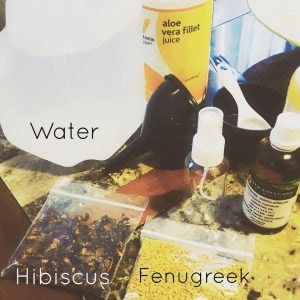 Ingredients and Supplies that you will need
Distilled Water - 2 Cups
Fenugreek Seeds - 1 Tablespoons
Dried Hibiscus Flowers - 1 Tablespoons
Aloe Vera Juice - 1/4 Cup
Lavender Essential Oil - 5 to 7 Drops
Hand Strainer
Spray Bottle
Funnel (Optional)
Directions:
Pour distilled water into a double boiler. You can also create a double boiler by pouring the distilled water into heat-safe Pyrex container. Then place the Pyrex inside a pot of water. Using the double boiling method keeps your tea from direct heat and helps maintain it's quality. 
Add the fenugreek seeds and dried hibiscus flowers to the distilled water. Bring the pot to a boil and then simmer for 45 minutes. The fenugreek and hibiscus will infuse the water and make a lovely red tea. 
After simmering, strain the fenugreek seeds and dried hibiscus flowers from the tea. Then allow the tea to cool a few minutes before adding essential oil. Once the tea has cooled add the Aloe Vera juice and drops of lavender essential oil. 
Use a funnel to pour the tea into a spray bottle. Give the bottle a little shake before each use. 
How to Use and Store Your Hair Tea
You can use this hair tea as a pre-shampoo treatment or leave-in product. My personal preference is to use it before I shampoo my hair. I liberally spray the hair tea on my hair and scalp. 
I place a shower or plastic cap over my hair for about 30 minutes and then proceed to wash my hair. 
Anytime you create a handmade beauty product that contains water, you will want to use a preservative or prepare for it to have a short shelf life. Without a preservative, mold can quickly grow inside its container.
Since this DIY product contains water and no preservatives, you will need to store it in the refrigerator. This will give your hair tea a shelf life of about a week versus only a few days. If you make just enough for a single wash day, storage will not be an issue for you. This recipe can be easily be adjusted to make smaller or larger batches.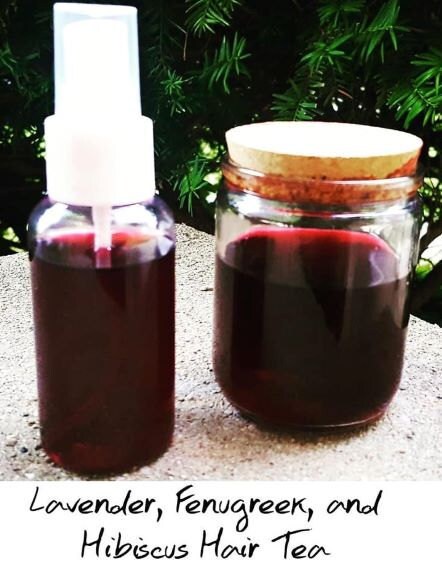 Where to Buy
I am fortunate to have a Fresh Thyme market not far from my home. At Fresh Thyme I can purchase dried hibiscus flowers and fenugreek seeds by the ounce. This is cost effective and I am not locked into a bulk purchase. 
You can also purchase fenugreek (the seeds or powder) and hibiscus flowers online. Aloe Vera juice and lavender essential oil are easier to find locally. Chances are both are sold in your local grocery's health food or beauty department. 
I use the Vitamin Shoppe brand of Aloe Vera juice both internally and externally on my hair and skin. The quality is amazing and it is frequently on sale. 
Additional supplies are items you may already have in your kitchen. You can purchase a high-end spray bottle that distributes a nice mist from Sally Beauty supply. Most of the time I used a small traditional spray bottle from the Dollar Tree.
My Results
After using this recipe for about a month, I noticed that my hair is much stronger. I see less breakage when styling and detangling my hair. 
It is too soon to see any significant increase in hair growth. Over the years I have learned that when it comes to using natural products, consistency is key. True results take place over time.
In the future, I will incorporate my lavender, hibiscus, and fenugreek tea on a monthly basis instead of every week. Everyone's hair responds differently to products. My hair does not need as much protein as others. 
A monthly hair treatment before shampooing should be the perfect shot of strength that my hair needs. If I find that anything changes, I will be sure to update this post. So subscribe and stay in the loop. ♥
What do you think of this recipe? If you give it a try I would love to hear about your results. Come back and leave me a comment or tag me on social media! 
C. L. Evans