Infinity Jars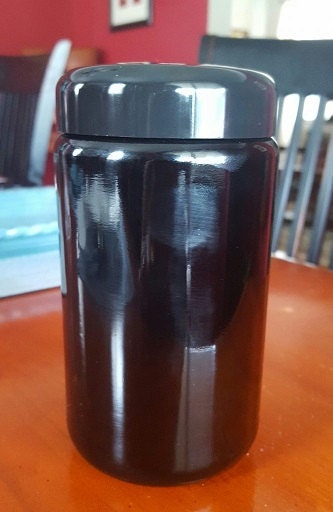 I now love to infuse my oils in my super chic jars from Infinity Jars. My Hair Herbal Oil is infused with sage, fenugreek, and lavender. After years of using clear and amber glass containers for my homemade beauty products, it was time for me to make a better investment in my natural products.
Infinity Jars are airtight and made with ultraviolet glass to extend the shelf life of my beauty creations. 
Higher grade essential oils are costly. When you take the time to invest in higher quality ingredients, you want to protect them and store them with care. Especially when you are also investing your time in making the perfect natural beauty product for your hair and skin.
Infinity jars excel when it comes to preservation. The airtight seal keeps oils, foods, and your homemade beauty products well preserved. Nothing leaks out and nothing foreign is going in.
Visit this brand's science page here to view the 7 month tomato test. You will not believe your eyes. If food storage is a priority for you, and you follow an organic diet, these containers pass the preservation test. The tomato test alone convinced me that Infinity Jars are well worth the purchase.
The ultraviolet properties surpasses the clear and even amber glass oil bottles. Infinity Jars keep harmful light rays out making it a perfect container for infusing oils. 
When infusing oils with my favorite herbs, I know am getting a potent oil in return. I can see the difference in the infused oils that I use for making my personal bath and body products. 
If you make preservative free body butters, scrubs, and lotions, an Infinity Jar will stretch the shelf life of your product for several months. The jars are made with a thick glass that has a chic look. If using these jars for personal use, they add an elegant appearance to the vanity or bath. 
In the video below I show and tell about the containers gifted to me by Infinity Jars. They enhance my body butter, oils, and flower waters. Still, Infinity jars are not limited to cosmetic storage. You can use them to preserve foods, cooking oils, vegetables, and more.
There are wide variety of sizes and styles including essential oil bottles, spray bottles, apothecary jars, kitchen bottles, and more. There is definitely a size jar that will meet your beauty or culinary needs.
InfinityJars.com is currently offering 10% for first time subscribers to their website.
They also offer additional discounts, giveaways on their site and Instagram, as well as a 30-day money back guarantee. 
I am destined to be a long time customer!
Keep it natural. Keep it simple. Be abundantly you.